Carbonite Review
A wave of online storage solutions have hit the market in the last few years, yet few of them come close to Carbonite in terms of competitive pricing, feature-rich software and ease-of-use. Carbonite is no stranger to the online backup business, having been in operation since 2005, which is a considerable amount time in the cloud-based storage world. They separate their backup plans into a few different categories: Home, Home Plus and Home Premiere, so you're likely to find a plan that will suit your individual data storage needs.
Carbonite's feature-rich offerings can accommodate most any storage demand and as such, is a smart choice for those looking to safely store their irreplaceable files.
Ease of Use
Carbonite's backup application installs quickly and then works in the background to seamlessly back up your computer's documents, photos, videos, emails and other files to their state-of-the-art data centers. Your files shouldn't be left to a complicated backup program, so Carbonite makes backup a completely automated process and takes you through it, step-by-step, without requiring you to restart your computer afterward.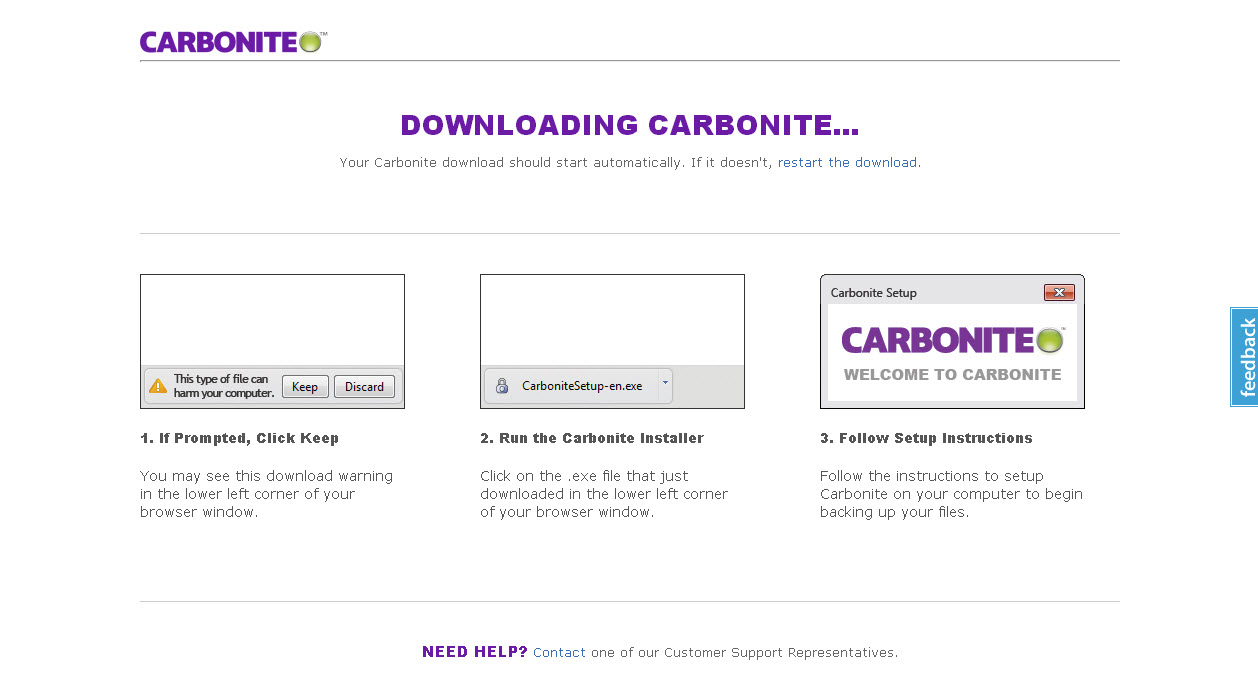 Carbonite Control Panel
Security
Regardless of which backup plan you sign up for, Carbonite provides what they refer to as "Bank-Level Security" for your data, utilizing Secure Socket Layer (SSL) technology to protect against theft or data loss. They even go a step further by encrypting your files while they are still on your computer, using 128-bit Blowfish encryption so that your computer data is being protected with an industry-leading encryption before you have even started uploading it to the cloud.
Customer Support
Carbonite offers customer service via telephone, utilizing a U.S.-based customer support department to personally assist you with technical issues and support questions 7 days a week from 8:30 a.m. to 9:00 p.m. Eastern Time. If necessary, those same support reps are available during the above business hours via email and live chat.
Accessibility
Carbonite's "Anytime, Anywhere Access" is exactly what it sounds like. It means that you can download any backed up files from any compatible computer connected to the Internet, regardless of your location. Accessing a work presentation, a family photo or your favorite TV episode before boarding a plane is all possible thanks to "Anytime, Anywhere Access".
If you don't have your laptop with you, Carbonite applications are available for iPhone, iPad, iPod Touch, Blackberry and Android devices. Access any of your backed up files using any of these devices while you are on the road or just relaxing on your couch.
Carbonite supports the following operating systems:
Windows XP
Windows Vista
Windows 7
Windows 8
Intel-based Macs with OS X 10.5+
Carbonite's smartphone and tablet apps are available for the following:
iOS iPhone & iPad
Android Phone & Tablet
Blackberry OS
Other Features
HomePlus and HomePremier subscribers are eligible for external hard drive backups, which is an additional safeguard against theft, hard drive crashes and/or damage. Those same plans also allow operating system files and software program files to be backed up.
If you're a Home Premier member, Carbonite even provides "Courier Recovery" service, which sends you a physical copy of your backup through the mail.
Mirror Image Backups are available to HomePlus and HomePremier members, which are identical copies of your hard drives, including your operating system and all of your installed programs—a huge time-saver in the event of a system failure.
Pricing
Carbonite has a really wide selection of backup plans to meet the needs most storage demands. The following pricing is a monthly breakdown of Carbonite's one-year plans.
| | | |
| --- | --- | --- |
| Home plan | HomePlus plan | HomePremier plan |
| $4.99/mo | $8.33/mo | $12.49/mo |
Summary
Carbonite's numerous online storage subscription plans can accommodate the storage demands of almost any user. The wonderful thing about their user interface is that it also caters to users of any computer experience—novice or IT professional.
Security is no laughing matter and Carbonite emphasizes the importance of data security by offering a double layer of encryption for files on your computer and for data being transmitted between the data storage center. And with U.S.-based customer support, you can relax knowing that help is just a phone call, email or chat box away. In short, Carbonite is simply a superb choice for protecting your data.