SugarSync Review
We always expect that our data will be safe and available, but unless we take measures to back it up regularly, we're inviting disaster. SugarSync is an online backup service that makes it easy to secure, share and access files from virtually anywhere. With continuous automatic file backup, SugarSync seamlessly handles the protection of your data while you work, play or sleep.
SugarSync has been providing world-class cloud backup services to its customers since 2008 and has quickly developed into a major player in the online storage market by providing a high-quality backup application and mobile apps that allow you to access your files on the go. The company also goes the extra mile by putting several security safeguards into place to ensure the integrity of your data during transfer and storage.
Ease of Use
The key to an effective backup solution is automation. If users had to do everything manually, they'd be less likely to back up their data regularly. With SugarSync's backup application, your files can be automatically backed up on a schedule of your choosing. SugarSync provides an easy-to-use scheduling tool that allows you to execute regular backups that work in the background without interrupting your productivity.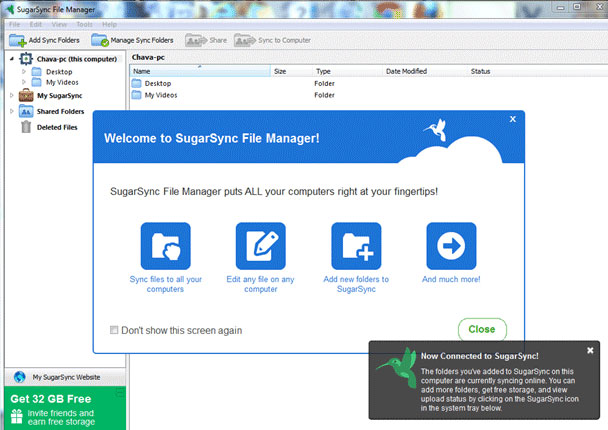 SugarSync File Manager
Backing up your data is as easy as dragging and dropping your files onto the "My SugarSync" folder, which is created during installation. Backed up files are then automatically synced to other computers and mobile devices of your choosing, such as smart phones, laptops and tablets. Restoring your files is just as easy as backing them up, thanks to an intuitive user interface design that makes tasks as simple as possible. You can even view and restore up to five previous file versions, which may come in handy at one time (or many times).
Security
The presence of online storage solutions has increased exponentially over the last few years, and the technology to protect your data has made substantial advancements at the same pace. SugarSync uses the same level of encryption to secure your data as many of today's financial institutions.
Files are not transmitted over the Internet as you see them on your computer. Instead, SugarSync provides a level of communication security by encrypting your data during upload and download using Transport Layer Security (SSL 3.3). This prevents eavesdropping and tampering of data while files are being transferred over the Internet. Once files have been backed up, they are stored in cloud data centers using 256-bit Advanced Encryption Standard (AES)—a world-class safeguard technology that ensures that your digital information can't be breached.
Customer Support
To address customer support issues, SugarSync has created a Customer Support Portal, which provides a wealth of in-depth information and support resources. Within the portal you will find email support, FAQs, a knowledge base of relevant articles, release notes, video tutorials, a live chat support option and a SugarSync community of active members that can lend a hand with timely responses to your pressing issues.
If you are using the free or individual paid account, you can get unlimited phone support for an additional $99.99/year. Phone support hours are between 6 a.m. and 7 p.m. (PST) Monday through Friday.
Accessibility
SugarSync enables individual users and businesses to securely access their data anytime, anywhere. Mobile apps are available for iPad, iPhone and iPod Touch, as well as the Android platform so that you can download a song while on the road, a photo while visiting with family or a presentation while traveling on business. You can even upload and sync files from your smart phone to your computer or vice-versa.
SugarSync works constantly to back up your files from your computer to other computers and devices. Sharing your files with family members and co-workers is an easy process—simply add files and folders to your shared SugarSync folder and set up the parameters for your recipients to view, edit or download your shared files. You can create a public link and then share it using various social media programs like Facebook, Twitter, email and instant messaging. Collaborating remotely with team members is a snap using SugarSync, since you can edit files on the cloud without having to worry about file version control or compatibility issues with various platforms and programs.
SugarSync supports the following operating systems:
Windows XP
Windows Vista
Windows 7
SugarSync supports mobile devices running the following operating systems:
iPhone, iPad and iPod Touch models running iOS version 5.0+
Android models running version Android OS version 2.2+
Windows Mobile 5 or 6
Windows Phone 8
BlackBerry version 4.5+
Other Features
SugarSync provides a 30-day free trial membership.
SugarSync allows you to edit a file offline on your computer and then automatically syncs it to the cloud when you reconnect to the Internet.
Pricing
SugarSync provides monthly and yearly subscription plans, catering to different tiers of data storage needs. The following pricing breakdown is based on one-year plans.
| | | |
| --- | --- | --- |
| 60 GB | 100 GB | 250 GB |
| $6.24/mo | $8.33/mo | $20.83/mo |
Summary
SugarSync is a powerful backup solution that also provides you with the flexibility to control the right aspects of your data protection. You can create a customized backup schedule for the files and folders you select and then share them with the recipients of your choosing. Being able to access your backed up files with such a wide array of mobile devices expands your range of productivity and ensures that your documents can be useful outside the home or office.