JustCloud Review
The race for online storage supremacy has a clear frontrunner in JustCloud. Providing perks such as unlimited cloud storage, free mobile apps, file access from anywhere and the ability to sync data with multiple computers, you can see how JustCloud has managed to pull ahead of the pack. Times have certainly changed for the better when it comes to backing up your documents, photos, music and videos, and you can look no further than JustCloud to provide a feature-rich, but easy-to-use desktop application to take the pain out of data protection.
Ease of Use
Gone are the days of having to tediously back up massive amounts of data to costly types of optical media such as CDs and DVDs, or to network drives and external hard drives. Today, we have access to affordable, effortless and automatic data protection to the cloud in JustCloud's highly intuitive interface, which includes a handy drag-and-drop feature to make backup a snap. If that's not easy enough for you, backups can be scheduled and automated so you don't even have to be at your computer to be protecting the data on it.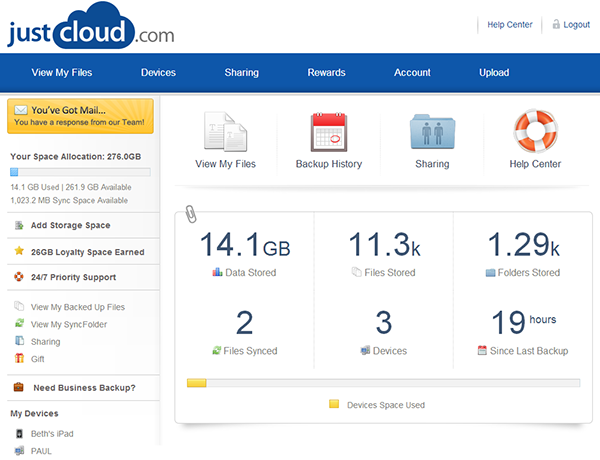 JustCloud Control Panel
JustCloud has made it so that all you need is an Internet connection and compatible device to ensure that important files are safely cloud-bound. Likewise, all of your previously backed up files can be accessed in the cloud from most computers with an Internet connection and they even provide a free mobile app that allows you access the JustCloud control panel on the go. Individual JustCloud licenses are currently available to provide backup services for smartphones, tablets, PCs and laptops, and the level of supported devices and operating systems is a comprehensive list.
Security
JustCloud places a great deal of emphasis on the security of their customers' data. The integrity and privacy of our documents, photos and videos has never before been so critical to the security of our businesses, the privacy of our identities and to our overall peace of mind.
To the delight of even the most demanding of online storage users, JustCloud uses a 256-bit Advanced Encryption Standard (AES) to ensure the protection of data being transferred between your computer, cell phone or other device and JustCloud's secured data centers. AES provides secure encryption for all data transmitted to and from data storage centers. Simply put, it means you can relax knowing that your data is protected with high level encryption when uploading or downloading files.
Another invaluable feature is JustCloud's Map Locator which allows for pinpointing a lost or stolen laptop by providing hourly tracking information to help you determine its location.
All data is stored on Google's Cloud servers, ranging in location from North America to Europe, where data is backed up in multiple locations to ensure reliability and availability. Data is stored indefinitely unless deleted by the user through the control panel.
Customer Support
If the comprehensive FAQ section and task-specific video tutorials on JustCloud's website haven't answered all of your questions, JustCloud's 24/7 email tech support system can provide timely answers to your most pressing questions and guarantees that response times for all email inquiries regarding billing will be responded to within two hours. You can also keep track of the latest product news and releases through JustCloud's social media presence on Twitter, Facebook and JustCloud's blog.
Accessibility
JustCloud's accessibility is far-reaching and quite simple, allowing access to any backed up or synced file on almost any device from anywhere in the world. Whether you're working from a tablet, smartphone, desktop or laptop, all you need is an Internet connection to access any files previously synced or backed up to JustCloud. An exciting new feature now available to JustCloud users also allows you to share files in the cloud with your friends and family via email, Facebook or Twitter invitation.
JustCloud supports the following operating systems:
Windows XP
Windows Vista
Windows 7
Windows 8
Windows 8 RT
Mac OS X 10.5+
Debian Linux
JustCloud smartphone and tablet apps are available for the following:
iOS iPhone & iPad
Android Phone & Tablet
Blackberry OS
Windows Surface
Windows Phone 8
Kindle Fire
Other Features
Download and install the mobile app on your smartphone or tablet to back up your camera roll's photos, videos, notes and voice memos.
Easily sync your files and folders across an unlimited number of computers for added security and availability. This feature makes editing a document on more than one device absolutely seamless.
Share your files and folders with friends and family, and assign "Admin" and "User" roles to them, depending on your desired access level for each person.
Pricing
JustCloud offers competitive pricing in its plans, which varies slightly between minimal storage needs and their unlimited plan. Pricing is as follows for their two-year plans:
| | | |
| --- | --- | --- |
| Home 75 GB | Premium 250 GB | Unlimited Plan |
| $4.49/mo | $4.95/mo | $6.95/mo |
Summary
Data security and accessibility is no longer the complicated and cumbersome task that it used to be. Thanks to JustCloud's data storage solutions, backing up and syncing your data can now be done with a simple drag-and-drop from the desktop application. Additionally, automation and scheduled backup features also eliminate the need for manual backup, if you prefer.
Those who value their personal data can appreciate JustCloud's easy-to-use interface, which eliminates the need for flash drives, external hard drives and a degree in computer science to protect your irreplaceable files. You no longer have an excuse to put off important data backups because you don't have the time, the money or the expertise—JustCloud has now eliminated that, too.