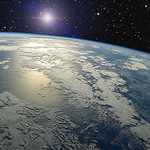 This month has brought some interesting news in the online storage industry. One major topic is the year 2015, a year targeted by experts in online storage to be a peak time for online storage market domination. The year is thought to bring over one trillion dollars in profit and investments.
While the number sounds huge, increasing reliance in cloud storage indicates that the market could even exceed this figure. Online storage is creating new jobs worldwide, and new companies are reaching for cloud daily.
One such company is Google. Google Drive, with its April 2012 release date, will hit the market with a simple, easy-to-use interface. Google Drive will be introduced first via a beta, invitation only launching; and is widely expected to give Dropbox, Amazon, and Apple's iCloud a run for their money.
In the EU, changes are slated to allow cloud computing growth in the European market. Resistance to the new technology in government agencies has back-burnered cloud projects in the past. EU laws have effectively slowed cloud computing due to laws unclear on the ownership of cloud stored data. Reportedly some ninety percent of cloud users in the UK are unsure of liability in regard to data ownership. Laws and regulations concerning cloud computing need coordination and assessment. Once these laws are hammered out, cloud computing should save money, time, and improve efficiency throughout the EU.
Small to mid-size businesses are reaping time saving benefits from the new KineticCloud Backup from KineticD, which offers a free data seeding service, reducing time to upload files in the cloud. The service provides unlimited servers with a 448 bank grade encryption, and once data is uploaded, KineticD sends incremental backup blocks to keep business networks unclogged, and eliminating the need to transmit entire file databases over the web. With new or modified files sent to the cloud continuously, backups occur effortlessly, and work with all major servers.
Popular cloud storage system SugarSync, has had a face-life to its web site, making icons and layout easier to navigate and less cluttered.
World Back Up Day March 31st brought lots of free offers and new users into the cloud computing fold. New business and individual users took the cue to review options and services and get on the cloud. Reviews of popular and 'best' cloud computing programs circulated on this date and are still available for savvy consumers waiting to compare and contrast cloud services.
Not only were users encouraged to sign up for cloud services, they were encouraged to start using them. Research has shown that individual users and even some business cloud users tend to have the service but not use it regularly.
Another message for World Back Up Day was to check back up configuration. Again, cloud computing users may not be aware of file size limitations, or have taken the time to perform a test restore to make certain cloud storage and retrieval are working smoothly. With mobile apps for cloud storage growing more common and easy to use, another key message for World Back Up Day was to down load and use one via smart phone.
And lastly, the MegaUpload debacle and demise earlier this year has led cloud users to rely on multiple services for file back up and storage. While the trend may be unnecessary overall, having your data stored with two cloud services or both in the cloud and locally, means double the security and access.
And lastly, a new research study undertaken in February shows a major up tick in companies utilizing cloud storage systems, up to forty percent, with extensive growth in cloud data storage predicted for non-users.
Photo credit to DonkeyHotey